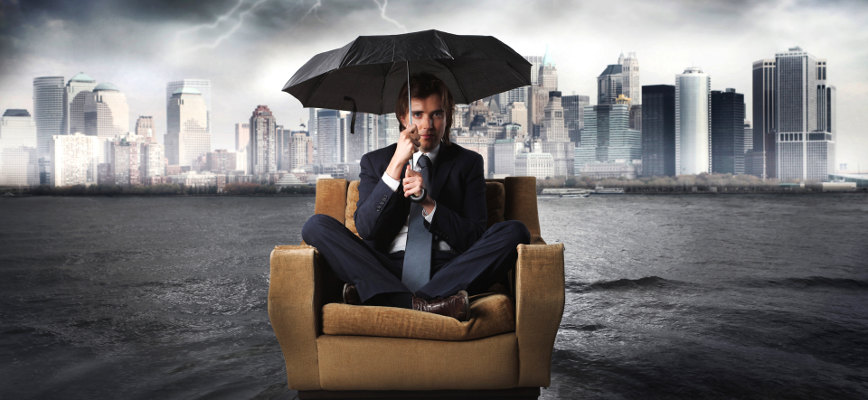 Security is the most important aspect of any internet based application. Bar none! Just because you haven't experienced bad things.....bad things do happen, and it's getting worse. Every day we battle with various attempted security breaches at both server and site level. If they're particularly serious then we let clients know.
It doesn't help that despite numerous security advisories, some clients knowingly continue to run obsolete and insecure software. Unfortunately there's only so much we can do in these situations because vulnerabilities actually exist......so it's only a matter of time before somebody exploits them. That's an absolute fact.
If you're on current software (which 99% of our clients are) then the risk is greatly reduced. It doesn't mean you're impervious to intrusion by any means, but the odds in your favour are a lot better. But what do you do if somebody wants you taken out of commission for either business or personal reasons?
Now this is where it gets interesting......because recently, two sites have gone through a period of sustained and premeditated hacking attempts. And one of them was ours! Yes.....I'm talking about this site!
In our case, somebody (for whatever reason) bombarded the site with intrusion attempts. And despite everything being locked down tight, they got in. We were onto it virtually instantly and dealt with it, but the results could have been catastrophic.
So it was at that point we had to rethink our options. We immediately put in a commercial website firewall application along with a number of other security related initiatives......which for obvious reasons we can't elaborate on. Since then all has been well, but we're expecting a repeat at any time, and no doubt this will be at an even higher level of expertise.
The second incident occurred very recently......and it was directed at one of our lady clients. Somebody who's been with us for many years and has a very successful business. Her attacks were perpetrated over a longer period and at a much higher volume than ours. It sent her bandwidth usage through the roof resulting in her site going offline for a short period.
We then set up the same security system as we'd done on ours, but we even had to take the unprecedented step of blocking transmissions from a number of countries. Yes.....it was that bad. I'm pleased to report that since then everything is back to normal.....however, as in the case of our site, we're monitoring any traffic to her site very carefully.
So why were we, and our client, attacked in this manner?
The common denominator is we've both been in our respective business sectors for nearly 20 years and are very well established. It could well be the case that we're the dominant entities in our markets......and if either of us were taken out of commission then others could potentially stand to gain from it. Neither of us have any problems with any person (client or otherwise) past or present, and neither of us have any bad business relationships with competitors or associates. So there's absolutely nothing conclusive to go on.
The fact remains that two of us with current and secure software were taken out of commission in a clinical, systematic, and sustained manner. This was no script kiddy or opportunist behind it.....this was a pro who no doubt was being paid to get the desired result. Disruption was minimal in both cases as we were on it fast......but it just goes to show that even when even when all your web applications are up to date, a pro can still get to you. If you're running obsolete software then the result will not be a short disruption, it'll be a trainwreck......but that's your choice.
The cold, hard truth is that even if all applications are up to date and all normal security processes are in place, you're still vulnerable. Not vulnerable in relation to the amateur hackers (like obsolete sites are), but you are most definitely vulnerable to the pros. And it doesn't cost much for somebody to hire a pro to do this sort of job! Both my client and I are fairly sure this is what happened in our cases......and we may not be in the clear yet, as only time will tell.
My feeling on this whole business is that now I would never run a site of mine without having the commercial firewall (and other initiatives) in place. Our property was violated....the site felt "dirty" afterwards so we replaced it entirely. If you've ever had a car stolen and returned then it's the same feeling, and I don't want to be in that position again. Should any clients want to have the same level of protection put in place to secure their site, and the way things are these days I would certainly consider it, just contact us at This email address is being protected from spambots. You need JavaScript enabled to view it.